29 Cheap & Fun Family Holiday Activities To Make Memories That Will Last
The winter season is a time for family bonding and creating lasting memories, but it can be hard to come up with ideas for fun family holiday activities that don't break the bank. So I'm here to help!
With teenagers in our house,  we've had to get creative over the years to find things that everyone enjoys and actually wants to do together as a family. From festive traditions to simple games we can play at home or in the backyard, here are 25 cheap and fun family holiday activities that will help make your season special.
Holiday Activities for Families
This list of the best Christmas activities is broken up into holiday traditions, indoor family fun, outdoor activities, and ideas for teens and tweens. I hope it helps give you some inspiration for family holiday fun!
Create New Family Holiday Traditions
A family that celebrates the holidays together, stays together! Traditions are a great way to bond as a family and create lasting memories. If you don't have any established traditions yet, now is the perfect time to start
Decorate the Christmas Tree Together
Choose your own day to gather the family and decorate your tree together! On Black Friday, our artificial Christmas tree and decorations come out of the attic and we set the day aside to sip hot chocolate and decorate your Christmas tree together.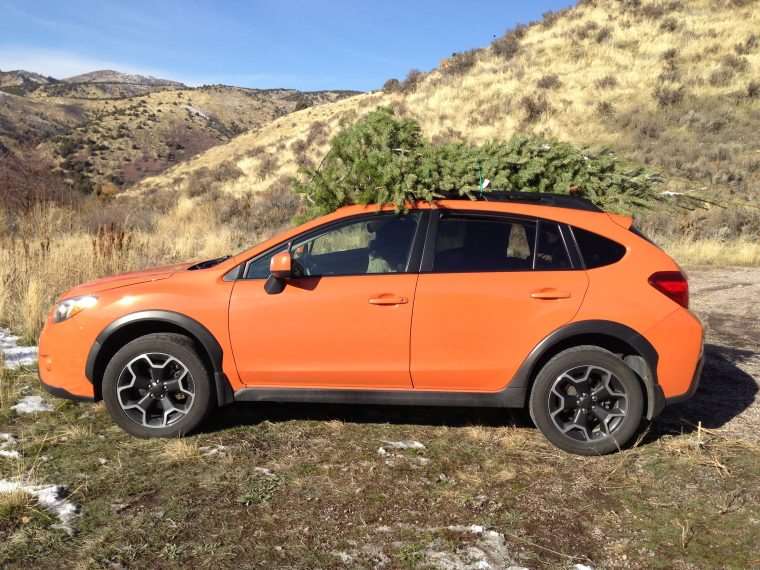 If you want to do a live tree, head to a local Christmas tree farm or lot to pick out the perfect tree. Get tips here on how to cut down your own Christmas tree.  If you do an artificial tree,  get everyone involved in putting it up and fluffing the branches.
And don't forget the family dog or cat! Make sure they get in on the fun by giving them their own festive Christmas collar ornaments to wear.
Make Homemade Christmas Ornaments
What's more festive than homemade ornaments? This is a cherished tradition for us that we started when our kids were little and one that we love doing every year.
We like to create homemade nature ornaments for our trees. We take a nature walk and gather pinecones, acorns, and other pretty leaves and twigs. It's a great way to get some fresh air and spend time together as a family.
For another natural option, string popcorn to hang on the tree.  It smells great and the kids love it! Take my advice and make a lot more popcorn than you think you'll need because half of it will end up getting eaten before it even makes it to the tree.
If you're looking for a more traditional option, try making salt dough ornaments. The kids can have fun cutting out shapes and using cookie cutters to make holiday-themed ornaments.
You can also get out all of our supplies- construction paper, glitter, markers, yarn, glue, etc.- and spend an afternoon making homemade ornaments for the tree. It's so much fun to see what everyone comes up with!
Build and Decorate a Gingerbread House
This is such a fun family activity and it's delicious too! You can use a Gingerbread house kit like this one we use ourselves from Wilton or make your own gingerbread dough from scratch. Once you have your gingerbread house, the real fun begins- decorating it with colorful icing, candies, and other festive decorations. If you want to make things extra challenging (and extra delicious), have a gingerbread house decorating contest and see who can create the most impressive design.
Host a Christmas Movie Marathon
What's better than snuggling up together as a family to watch some of your favorite Christmas movies? We love having a family movie marathon and making it into a fun event by popping popcorn, making festive snacks, and setting up blankets and pillows in front of the TV.
Some of our favorite family-friendly Christmas movies include:
How The Grinch Stole Christmas
Rudolph the Red-Nosed Reindeer
Santa Claus
Christmas Story
Nightmare Before Christmas
Polar Express
Elf
Miracle on 34th Street
Make Homemade Gifts
Giving homemade gifts is such a special way to show the people in your life how much you care about them. And it's so much fun to do together as a family! It's one of my family's favorite holiday traditions. It's so much fun to get creative and come up with thoughtful, personal gifts that we know the people in our lives will love.
We like to make things like homemade candles, soaps, bath bombs, and sugar scrubs. We also love giving food gifts like jars of homemade hot chocolate mix, cookies, or fudge. For more ideas, check out this list of 100+ homemade gifts that people will actually use.
Find more gift ideas here:
Do a Family Photography Session for Christmas Cards
Do a family photo session to use for our Christmas cards this year. It's so much fun to dress up in coordinating outfits and spend some time taking pictures together. And it's so nice to have a professional family photo to use on our cards and display in our home.
If you're not up for a professional photo session, no problem! You can also take some family photos on your own with your camera or phone. Just make sure to get everyone in the frame and have fun with it!
For photo books and cards, I really like Mixbook and have used them for years. See all of their holiday photo cards here. 
Drive around to see Christmas Lights
One of the best free holiday activities is to pile everyone in the car, put on some Christmas music, and drive around to look at all of the beautiful Christmas light displays. It's such a fun way to get into the holiday spirit and spend some time together as a family.
Sing Christmas Carols
Singing Christmas carols together is such a fun way to get into the holiday spirit. You can sing them inside your own home or go around to your neighbors' homes and spread some holiday cheer. Either way, it's sure to be a fun family activity that everyone will enjoy.
Don't know all of the words to the carols? No problem! I found when I play Amazon music on my phone, there's an option to have the lyrics right on the screen so we can all follow along.
Do a Holiday Themed Scavenger Hunt
This is such a fun family activity, especially if you have kids. You can hide holiday-themed items around your house or yard and then give everyone a list of things to find. The first person to find all of the items on the list wins! You can make your own scavenger hunt or find these paid printables on Etsy.
Bake Christmas Cookies Together
Baking Christmas cookies is such a fun family tradition. It's so much fun to spend time in the kitchen together, baking up a batch of delicious cookies. One of my favorite memories growing up is baking cookies with my Grandmother. Today, I use her recipes with my children.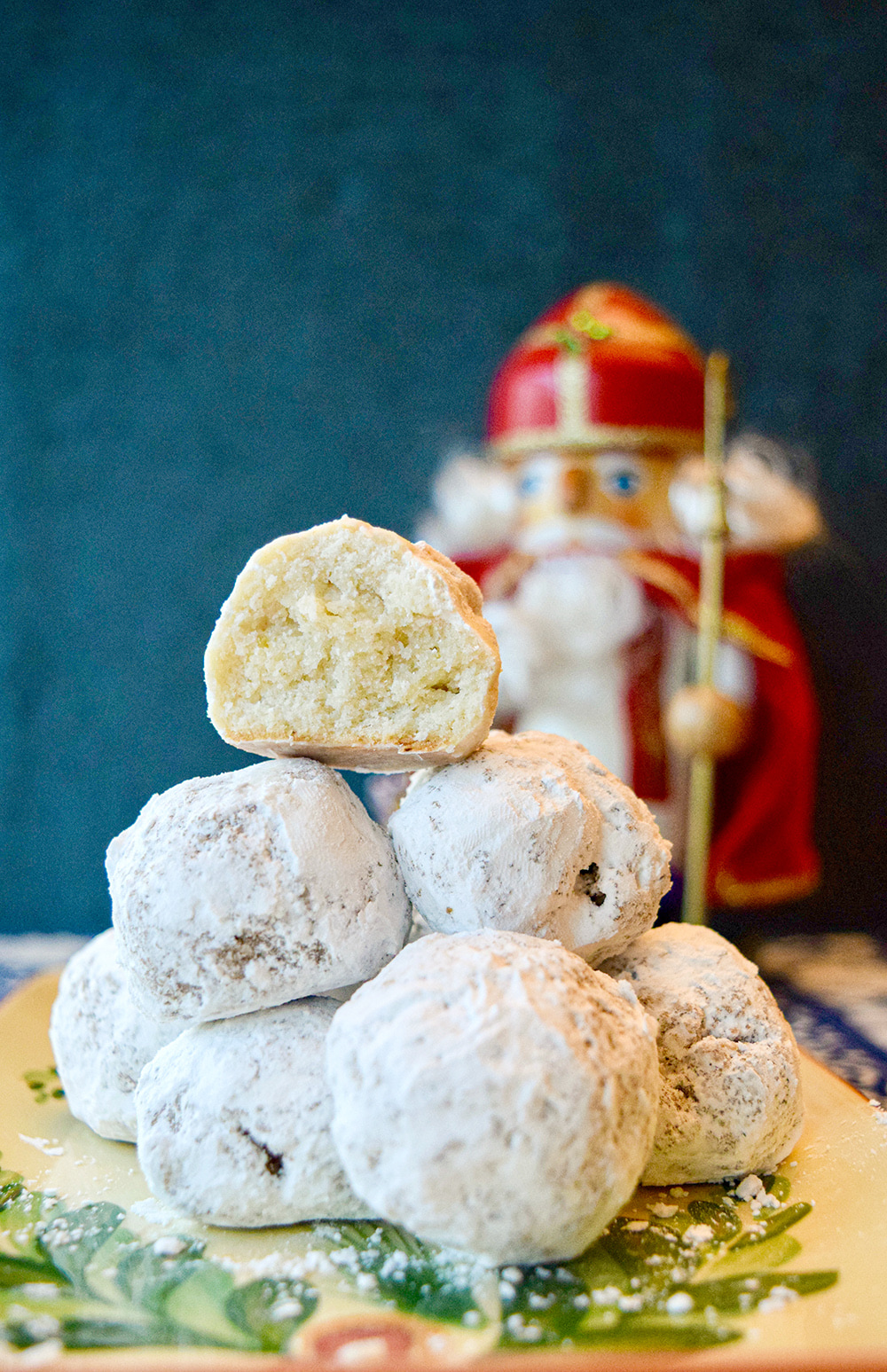 Want to make baking even more fun? Decorate them with colorful icing, crushed candy canes or other candies, and other festive decorations. If you want to make things extra challenging (and extra delicious), have a family cookie decorating contest to see who can create the best-looking cookie.
Have a Crafting Afternoon
Spend an afternoon being creative and crafting together. We'll get out all of our arts and crafts supplies and spend the afternoon making Christmas decorations, cards, gift tags, etc. I think this year I may try my hand at hand stamping craft paper to use when wrapping gifts. It's so much fun to get creative together and make some beautiful finished products.
If you want to get your creative juices flowing, you can:
Create Paper Snowflakes
DIY Mason Jar Candles
Paint Rocks with Holiday Themes
Make a Holiday Wreath
Make Pine Cone Gnomes
Do An Advent Calendar Together
An advent calendar is a great way to count down the days until Christmas. Each day, everyone gets to open one window on the calendar and see what's inside. It's so much fun to see what surprises are in store each day. And it's a great way to build anticipation for Christmas Day.
Here are 10 Chocolate Advent Calendars under $20.
Volunteer as a Family
One of the best ways to teach your children the importance of giving is to volunteer as a family. There are so many ways to give back during the holiday season. You can donate clothes or toys to a local family in need, make meals for a family who is going through a tough time, volunteer at a soup kitchen, or even just spend some time visiting with the elderly in a nursing home or in your neighborhood.
Host Family Game Night
Family game night is always a hit in our house. We love getting out all of our favorite family games and spending some time laughing and playing board games, card games, and more. It's the perfect way to unwind after a long day and spend some quality time together. Puzzles are also a fun shared experience for something more low-key. Check out this great selection of puzzles on Zulily.
Some of our family's favorite games are:
Play Christmas Carol Pictionary
This is a family favorite game in our house! To play, you'll need some holiday music, a whiteboard or large sheet of paper, and markers.
One person starts by drawing a clue for the Christmas carol on the board while the family tries to guess which song it is. If no one can guess the song within a certain amount of time, the person who drew the clue gets to sing a verse from the song. This game is always good for some laughs!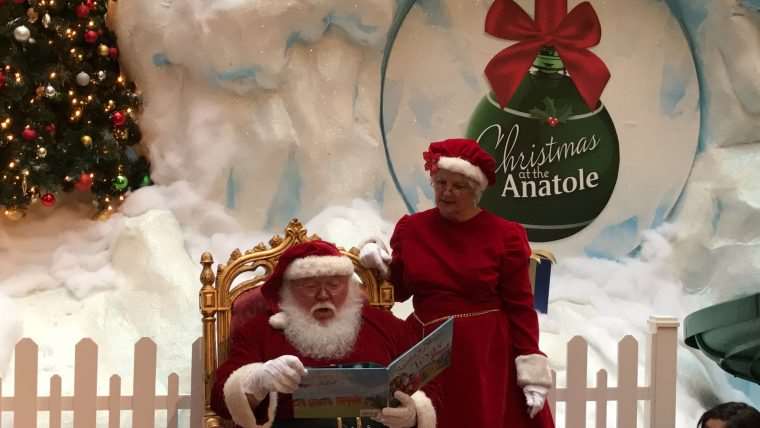 Take Part in Local Holiday Activities
There are so many fun holiday activities happening in your community. Check your local paper or do a quick search online to find out what's going on in your town. Some ideas include:
Attending a tree lighting ceremony
Visiting Santa Claus
Going to a concert for Christmas music
Going to a holiday play
Checking out the holiday lights
Taking a family sleigh ride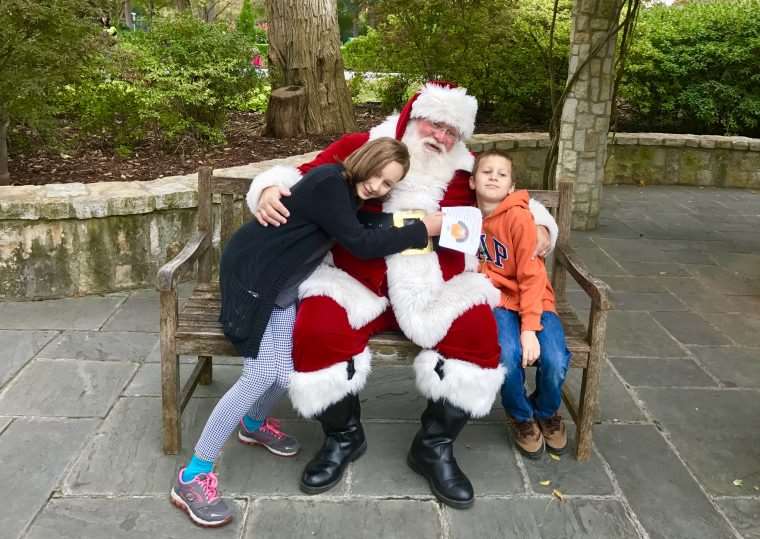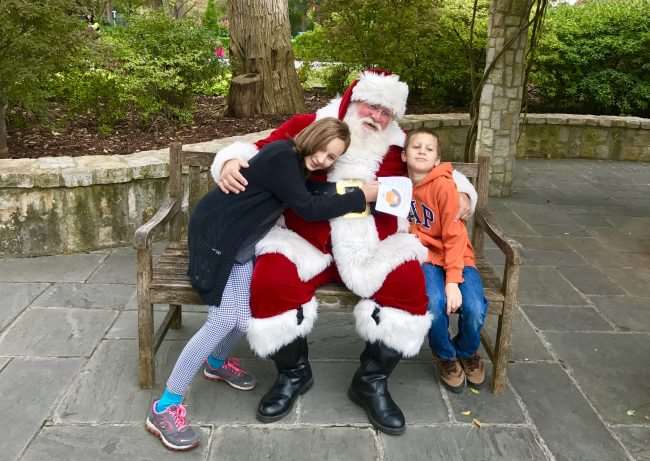 For more family activity inspiration, check out our latest posts here:
Best Winter Activities to Get Your Family Outside
Have a Snowball Fight
If you are fortunate enough to live in an area where it snows, take advantage of it and have a snowball fight! This is such a fun activity for the whole family. Just make sure everyone is bundled up before heading outside. If you don't have snow,  you could always have a water balloon fight instead.
Build a Snowman or Snow Fort
Another great activity to do in the snow is to build a snowman or snow fort. This is such a fun activity for the whole family and it's a great way to get everyone outside. If you don't have snow, you could build a fort out of pillows or set up the tent and go camping in the backyard.
Related: If your children have outgrown their snow clothes, read our review of Shred Dog here. This company designs quality pieces at a fraction of the cost you pay in stores. Plus they design clothes to grow with your child so you get more than one season out of things.
Go Sledding or Tubing
When it comes to fun winter activities to do with kids, sledding and tubing are both great ways to get the family outside and have some fun. If you don't have snow, you could go rollerblading, biking, or scootering instead.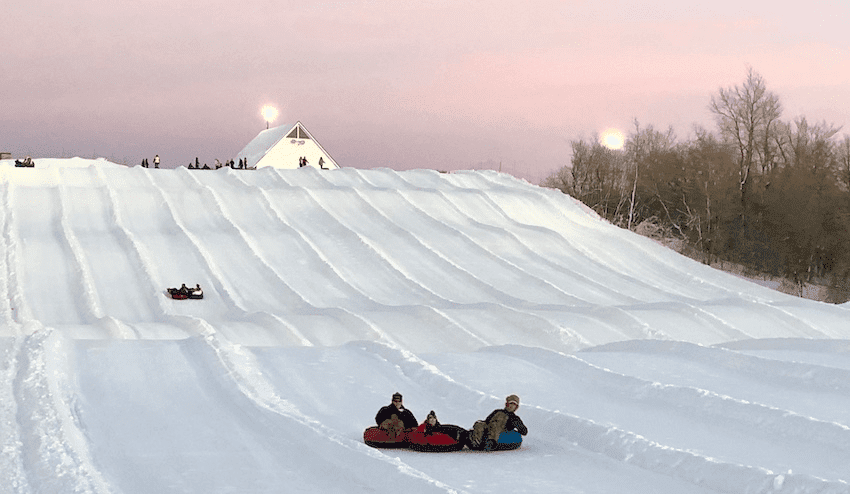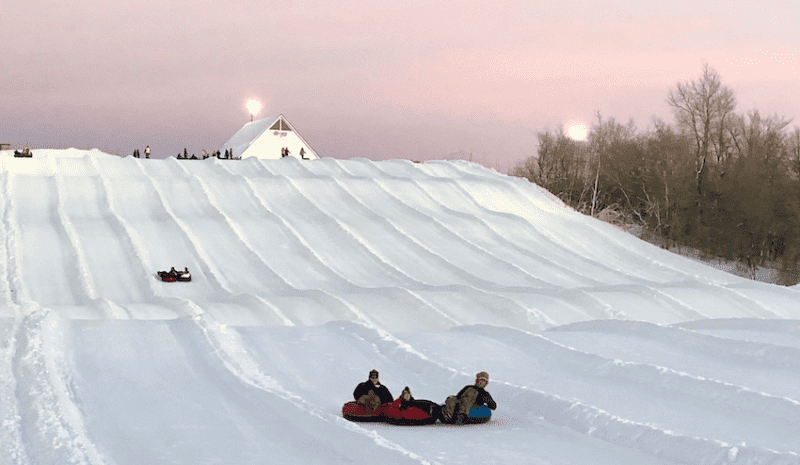 Watch the Northern Lights
If you live up North, plan a family outing to see the Northern Lights and gaze in wonder at our awesome universe. If you don't live up North, you can explore the Northern Lights with Google Maps.
Winter weather is often crisp and clear. A family outing to your local stargazing or astronomy club followed up with hot chocolate is a great way to make winter memories.
Go Ice Skating
Ice skating is such a fun winter activity and it's a great way to get the family outside. If you don't have ice, you could go roller skating or inline skating instead.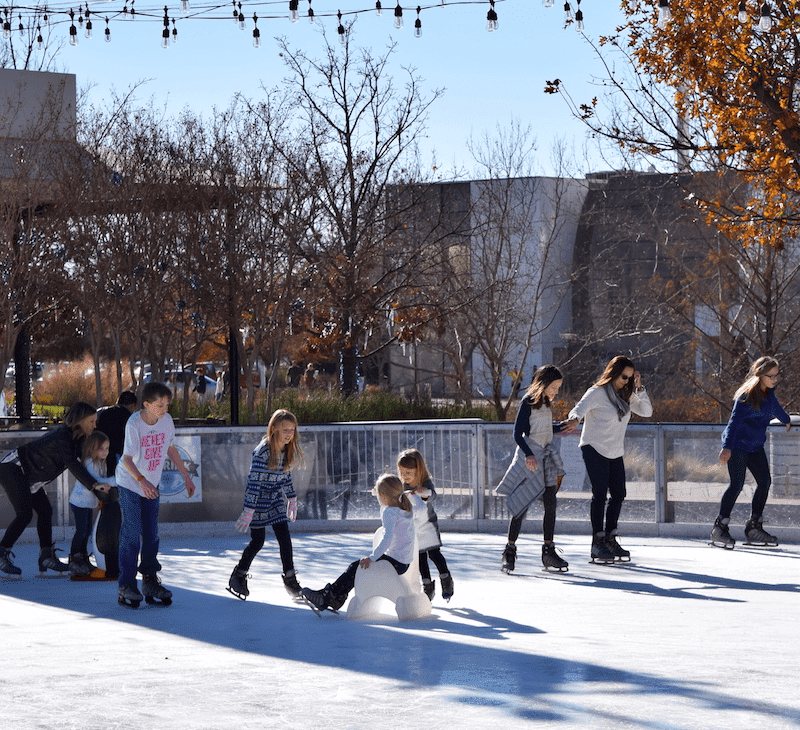 Take a Family Sleigh Ride or Wagon Ride
Sleigh rides and wagon rides are great ways to see the sights and enjoy the winter weather. If you don't have a sleigh or wagon, you could go for a family walk or bike ride instead.
Pin For Later
Want to save this article for later Pin the image below to Pinterest.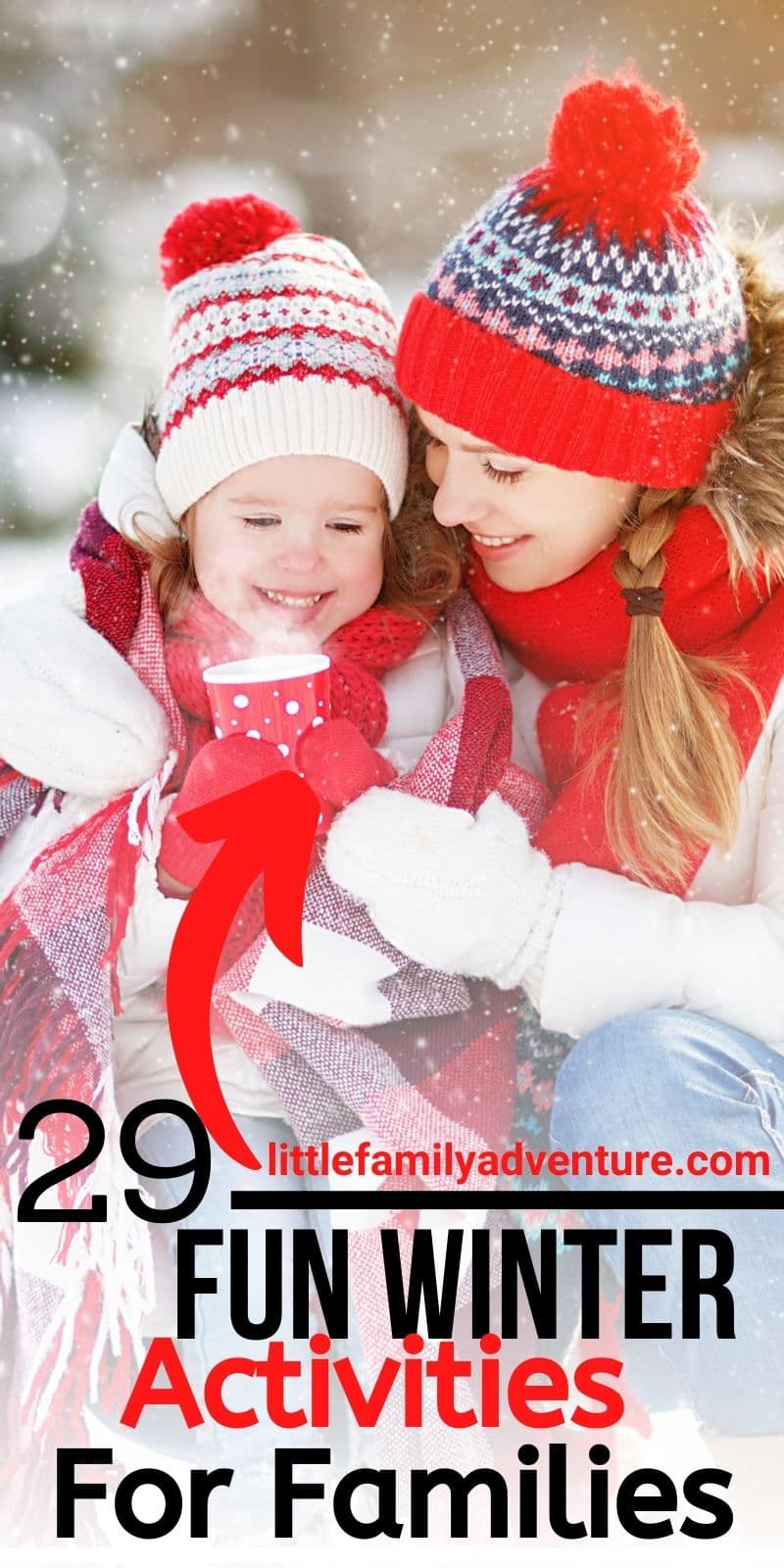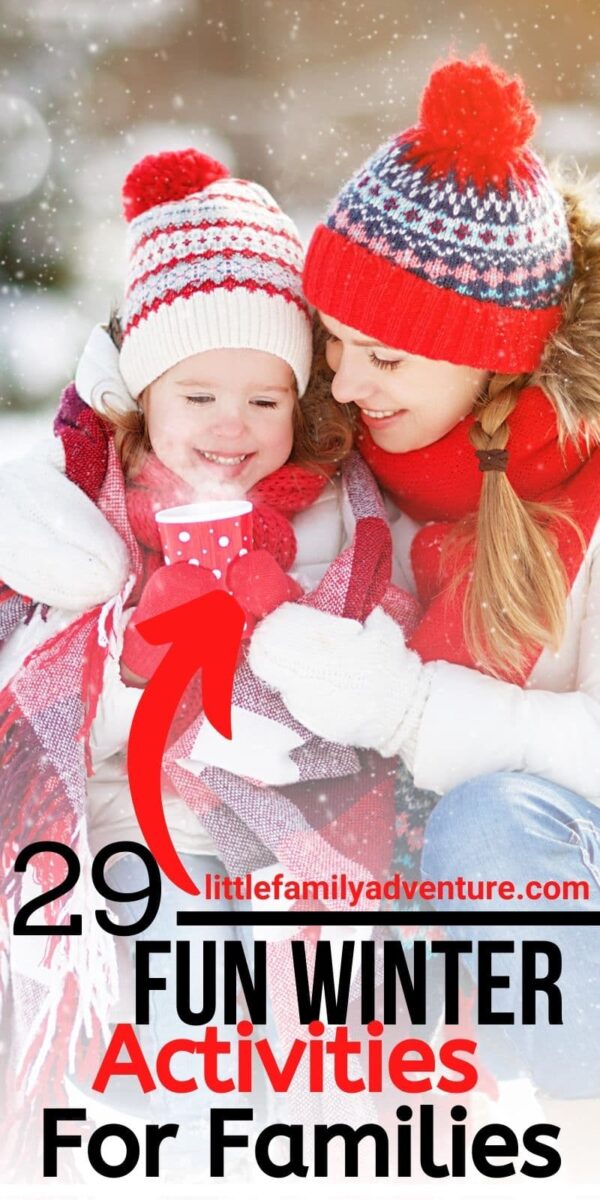 Indoor Family Holiday Activities
Indoor family activities are great for days when it's too cold or wet to go outside. Some of our family's favorites include:
Host an Ugly Holiday Sweater Party
Gather all of your family and friends together and have an ugly holiday sweater party. This is such a fun way to get everyone in the holiday spirit. You could even have a contest for who has the ugliest sweater.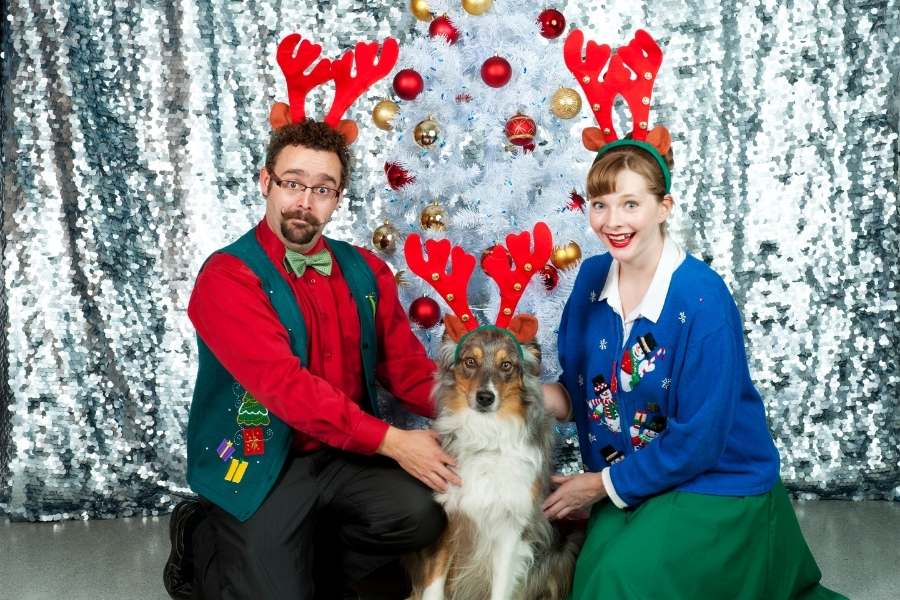 Read a Book for Jolabokaflod, Christmas Book Flood
Jolabokaflod  is an Icelandic holiday tradition. On Christmas Eve, books are given as gifts and many families spend the rest of the night reading. 
You don't have to be Icelandic to enjoy this holiday. Share a book/story with your family and read out loud together.  Even older children will love this new tradition. Plus no one says you have to stop after the holidays. You can make this a weekly occurrence. Read more about Jolabokaflod.
Set Up a Hot Beverage Bar and Enjoy
It can be a welcome treat to curl up by the fireplace with a warm drink in hand. Set up a hot beverage bar for hot chocolate, hot coffee, Chai tea, or hot toddy (for the adults) as well as all the accompaniments.
Having a Family Dance Party
Dancing is a great way to get the family moving and it's a lot of fun. Put on some of your favorite holiday music and let loose. You could even have a family dance-off or make up your own holiday dance routine.
Hold a Family & Friends Talent Show
Invite family and friends over and have a talent or variety show. This is such a fun way to showcase everyone's talents and it's a great way to get everyone together. You could even have a prize for the best performance.
Create an indoor fort and go camping inside
Using blankets and pillows or this no-sew tablecloth camping playhouse, it's fun to construct an indoor fort. See these indoor and backyard camping ideas.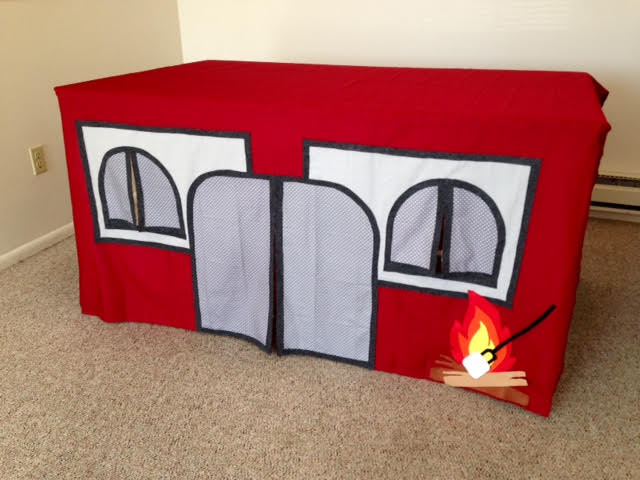 Take a Virtual Cooking Class
Many cooking classes have gone virtual and it can be a fun family activity. Outschool has a wide variety of cooking classes for all ages and skill levels. Learn how to make an international dish and learn about a new place, or just learn a new cooking skill. Classes start at $7
Host a Cookie Exchange
I love baking Christmas treats, but I don't want to spend ALL day in the kitchen. Hosting a cookie swap is a great way to get a variety of cookies without all the work. Everyone brings their favorite holiday cookie and you all go home with a plate full of different goodies.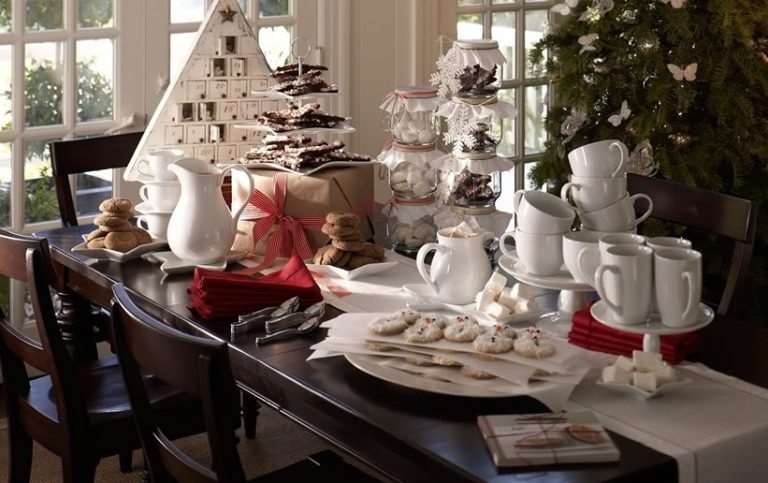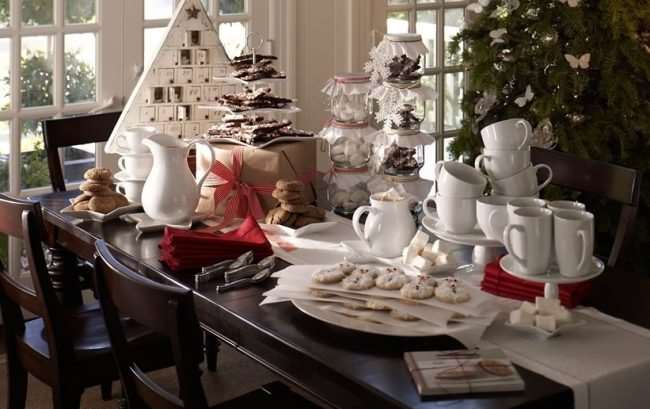 This list of creative Christmas activities will surely inspire you to create memories with your loved ones and get you into the holiday spirit.  So, get out there and enjoy all that the season has to offer!
What is your favorite holiday activity to do with your family? Let us know in the comments below.
FOLLOW US ON SOCIAL MEDIA