Yes, You Can Create the Famous Flora Bama Bushwacker as a Virgin Mocktail
Gulf Shores, Alabama is well-known for its beautiful beaches and tasty seafood. But one of its most iconic exports is the Bushwacker cocktail. This creamy, dreamy libation is the perfect way to cool off on a hot day. The original recipe is a boozy chocolate milkshake loaded with rum, vodka, and coffee liqueur. But what if you're looking for a virgin mocktail?
Don't worry, we've got you covered. Luckily, it's easy to make a delicious virgin Bushwacker recipe at home. All you need is some ice cream, chocolate syrup, and a few other simple ingredients. In no time at all, you'll be sipping on a delicious non-alcoholic version of this classic beach drink.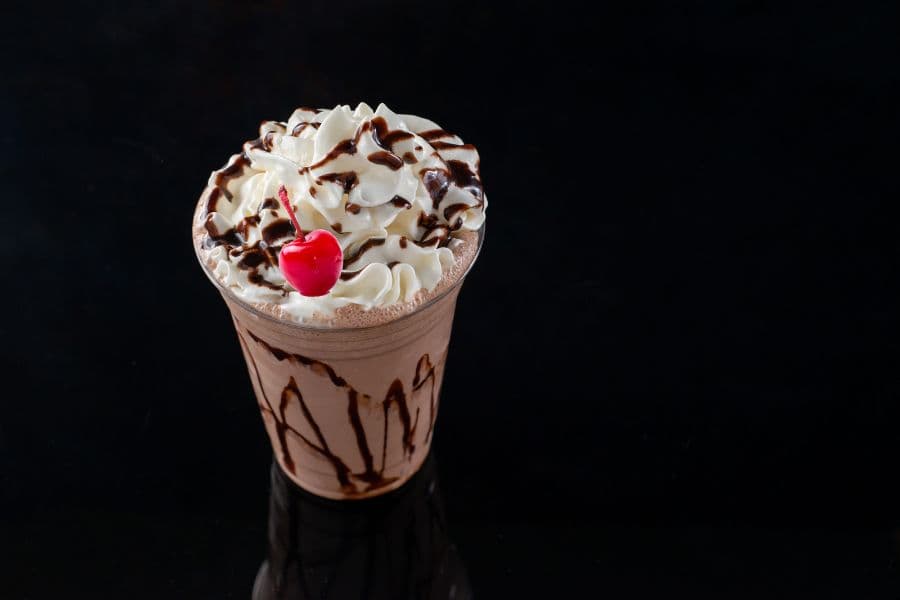 What is a Bushwacker?
A Bushwacker is a creamy, chocolatey frozen cocktail that is often garnished with whipped cream and a cherry on top. The original alcoholic Bushwacker is made with dark or light rum, Kahlua, Crème de Cacao, creme of coconut, milk, and ice. Some say it tastes like a chocolatey piña colada. Personally, I think it tastes like a boozy Wendy's Frosty.
History of the  Bushwacker
The history of the Bushwacker cocktail is a bit hazy. I always thought it was created at a Gulf Shores, Alabama bar called the Flora-Bama. This is the bar where, when I went for the first time, there was bull riding happening on the sand between the buildings (the event was called Bulls on the Beach) and I saw a cowboy on horseback, drinking a beer, and dancing on the outdoor dance floor. Wild night! I actually wrote about this. You can find that article here.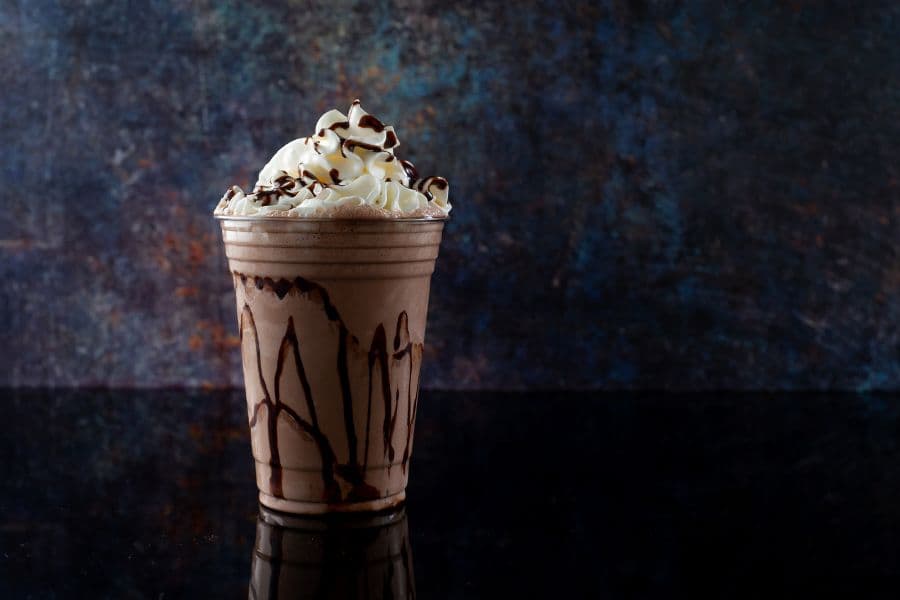 However, the alcoholic drink actually originated at the Ship's Store & Sapphire Pub in St. Thomas, US Virgin Islands. Angie Conigliaro created the drink and named it after a guest's dog, Bushwack. 
The drink gained popularity in the 1970s and 1980s and found its way to The Flora-Bama Lounge, an iconic beach bar that straddles the Alabama/Florida state line. Today, you can find Bushwackers all along the Gulf Coast, from Mississippi to Florida.
Flora-Bama Bushwacker Recipe
Whether or not the Flora-Bama was the originator of the Bushwacker, this bar has become synonymous with the drink. And for a good reason, they make a mean Bushwacker. The Flora-Bama claims to have served over 2 million of these creamy concoctions since then.
One thing is for sure, this drink is a crowd favorite.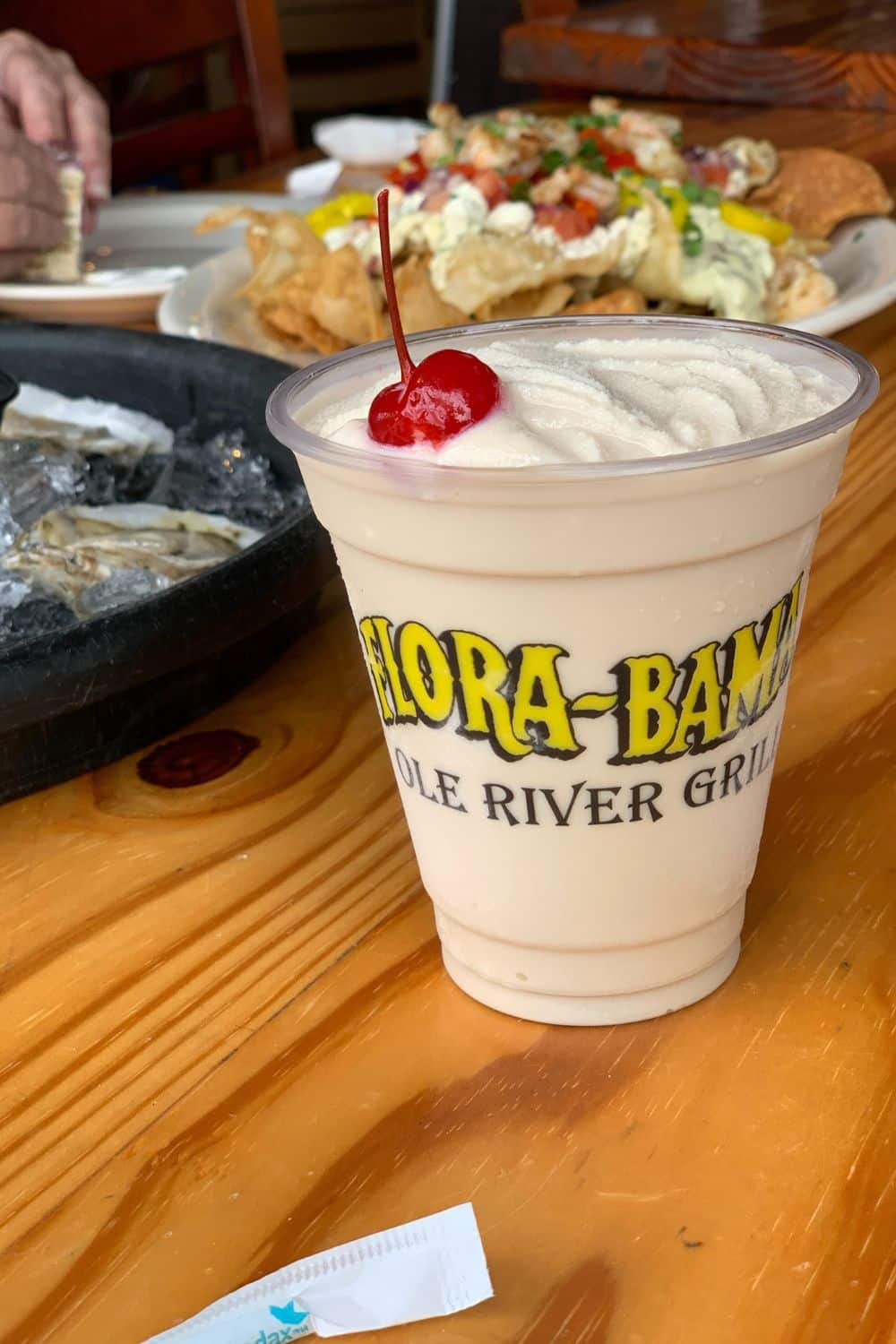 Copycat Flora Bama Bushwacker Recipe (standard recipe – alcoholic)
1 ounce Dark Rum
1 ounce Kahlúa
1 ounce Dark Crème de Cacao
2 ounces Creme de Coconut
1 1/2 cups vanilla ice cream
Everything is put into a blender and mixed until smooth. Top with whipped cream and a cherry. If you want it extra thick, add more ice cream or ice cubes. And if you want it less sweet, cut back on the creme de cacao.
Pin For Later
Want to save this article for later Pin the image below to Pinterest.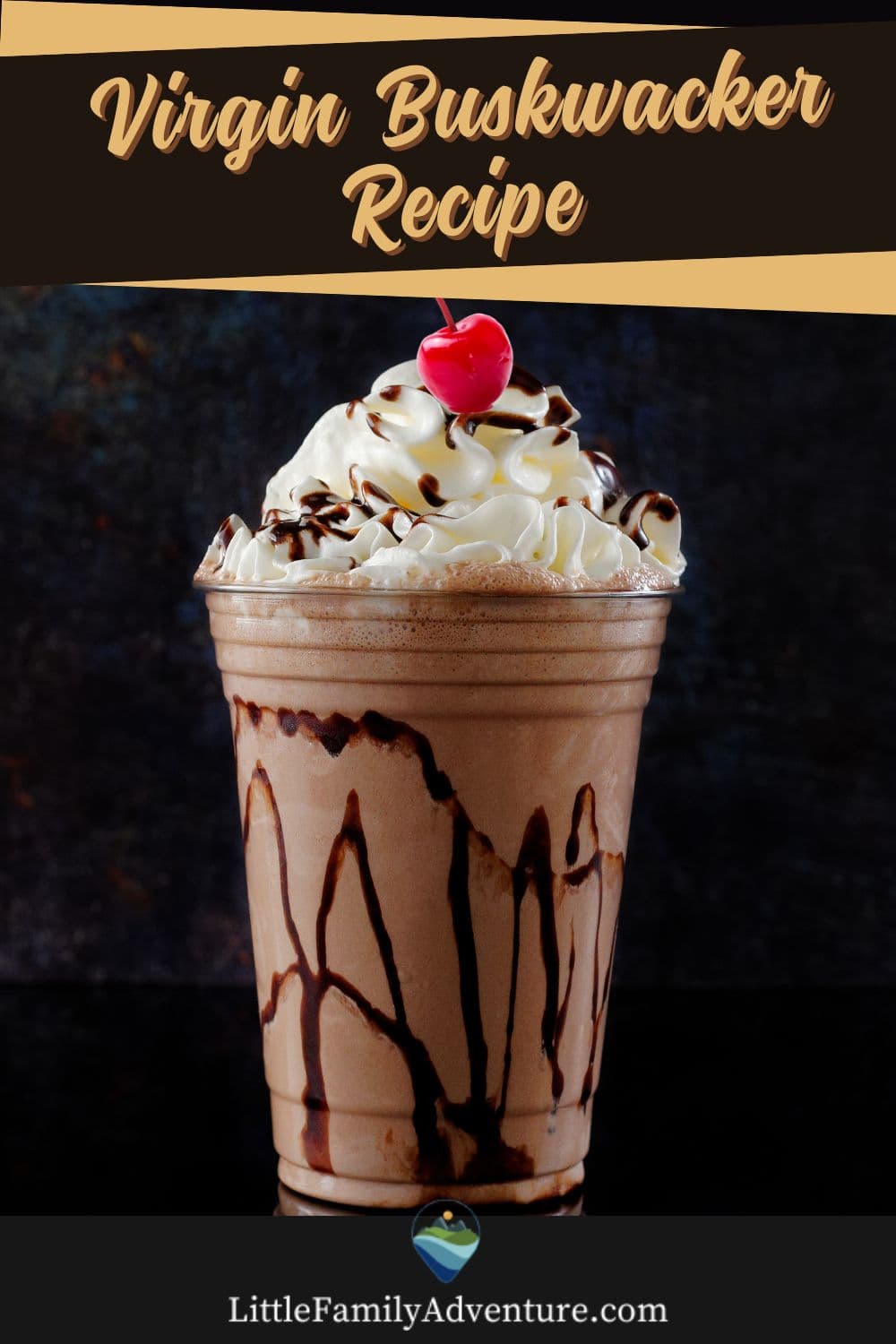 Non-Alcoholic Bushwacker Mocktail Recipe
On a recent visit to Gulf Shores and Orange Beach, I had lunch at the Flora-Bama Yacht Club. They have great oysters there and it was my first stop after flying into the Pensacola airport and driving in. I tried to order a virgin bushwacker, but learned they aren't available as a mocktail. That's because the drink is premixed and chilled in slushie machines similar to piña coladas and frozen margaritas and served frozen straight from the machine.
So I decided that when I got home, I would tinker and recreate this boozy chocolate treat as a non-alcoholic, easy Bushwacker recipe.
Ingredients:
1 cup vanilla ice cream
2 tablespoons chocolate syrup
1/4 cup milk
1/4 cup coffee liqueur syrup or strong brewed coffee, cooled
1 tablespoon rum extract or zero proof rum alternative 
1 tablespoon cream of coconut
1 cup ice cubes
Garnish:
Whipped cream (optional)
Maraschino cherries (optional)
Instructions:
1. Add all ingredients, except whipped cream and cherries, to a blender and blend until smooth. Add enough ice to get the desired consistency you want. It should be a thick frozen cocktail.
2. Pour into a hurricane glass and garnish with whipped cream and a cherry, if desired.
3. Enjoy immediately!
Note: Gulf Shores' Southern Shores Coffee off Dolphin and East Second Street roasts their own specialty coffee. They make a Bushwacker roast that tastes really good in this recipe. It has all the chocolate, rum, and vanilla notes of the cocktail. I bought several bags last time I was in town and have used it in this mocktail recipe in place of strong brewed coffee.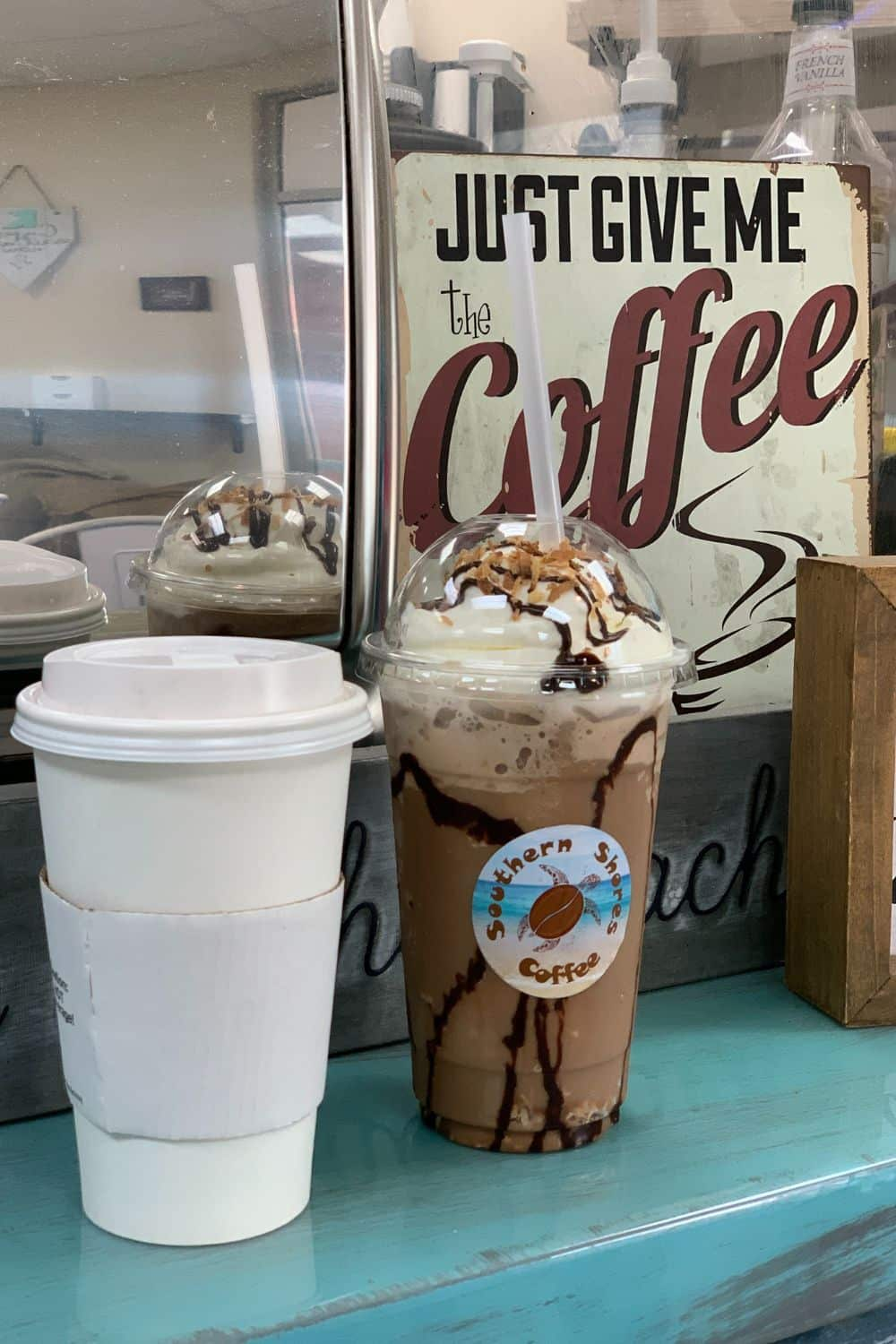 This virgin Bushwacker recipe is so easy to make and only requires a few ingredients that you likely already have on hand. It makes one serving. For more servings, simply multiply ingredients by the number of drinks needed.
This really is a great drink that is rich, creamy, and chocolatey with just the right amount of sweetness.  If you want to add a little extra something, try rimming the glass with chocolate syrup and sprinkles, a drizzle of caramel, or a sprinkle of nutmeg. You can also swirl the chocolate syrup around the inside walls of the glass before adding the drink. I think this would be especially fun for kids!
I hope you enjoy this frozen drink recipe for a virgin Bushwacker! Let me know in the comments below if you give it a try. Cheers!
If you find yourself planning a trip to Gulf Shores or Orange Beach, be sure to add a stop at the Flora-Bama to your itinerary. It's a must-do while in the area! If you are traveling with the family, try one of the many other great restaurants in the area including the Flora Bama Yacht Club across the street. You can find a list of my favorite restaurants here.
You'll also find more on the Gulf Coast here:
Have you ever tried a Bushwacker? What did you think? Let me know in the comments below!
Happy travels!